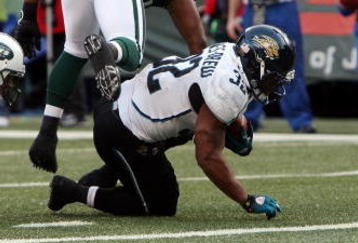 The Jacksonville Jaguars were marching in for the go-ahead touchdown against the New York Jets last week and on his way into the endzone, Maurice Jones-Drew took a knee at the 1. The Jets were allowing him to score so that they could get the ball back with as much time on the clock as possible, so that they could make their own comeback.
I have never been a good strategist in the "let them score" mentality, but Jones-Drew refused to play into their plans. I probably would have taken the points and played defense and many of the TV guys said the same thing, because you never know if you might fumble the next snap and lose the game. In this case, however, Jones-Drew turned out to be the smartest guy in the stadium, sealing the win by NOT scoring!
That win and today's now put the Jaguars in pretty good position going down the stretch with a 6-4 record, when they were left for dead at the end of September.