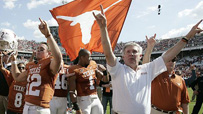 Texas outlasted Oklahoma 16-13 in a great gridiron battle, but lost Sam Bradford once again to the same shoulder injury that sidelined him in the first game of the season. This time tough, his is most likely gone for the season and possible forever.
He wouldn't and shouldn't have addressed the question, even though the question had to be asked, as to his future plans.
He did say that he believes God has a plan for this situation.