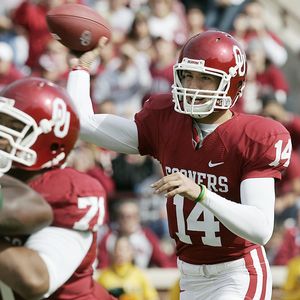 Sam Bradford has been out since the first game of the season. Tim Tebow didn't miss a game, but had the fortune of a bye to get his head straight after a devastating concussion two weeks beforehand.
Both of the former Heisman Trophy winners returned to the field of play on Saturday and their teams left the field winners! Oklahoma handed Baylor a 33-7 setback behind Bradford's 389 passing yards. Tebow's Florida Gators had the tough task of winning in Baton Rouge against the #4 rated LSU Tigers. It was a methodical game for the usually fast-paced Gators, but the top ranked team in the country will take the 10 point SEC road win and feel blessed to get out of there with a victory and a healthy Tim Tebow.
Both QB's were happy and humble in their triumphs.